It's been a long day. Atlast the Astro Camp is finished. I admit its not really exciting. Yeah, I get to see the star but that's it. I thought it would be something unique and spectacular. The thing I really enjoyed here nonetheless in the star gazing in the dome.
Anyway, speaking of spectacular and exciting, here's a contest for BlankPixel's 30th Birthday and Just Another Pixel's second anniversary. It's called Thirty on 30 with the theme, Changes in my life. And know what? You have the chance to win $300. There's a lot of changes for winning.
Excited now right. Just check out the contest banner and her sponsors to know more about the contest. Something spectacular is really coming.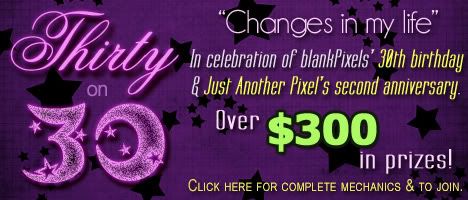 Primary Sponsors

● Everything Nice! ● News Break Online ● Fat Girl No More ● Written by Mys ●
● My Thoughts, My Heart, My Turf ● ZoWanderer ● Just the Tip of an IceBerg ●
● Just About Anything ● Blogger Manila ● Dress Up Your Blogs ●
● Certified Foodies ● Pinay Online Money Maker ● Pinay Reviewer ●

Secondary Sponsors

● Georyl: Blogging with my Heart ● Pop Ups of My Min ● Blog Tactic ● Grace in Creative Life ●

General Sponsors

● Make Money Online and Beyond ● One Proud Momma ● Lover Mushroom ● Plate and Me ● Paula's Home ● Make More Money Online ● The Miscellaneous Me ● Here, There and Everywhere ● Travels and Explorations ● Musings of Life ● Kharen's Corner ● It's Kha ● Noypistuff ● Jennyholic, Confession of an Addict ● Deej Speaks ● Techie Things ● Cups and Lowercase ● Live for Live ● Experience of a Super Mom ● Sharing my Thoughts ● Yashiro's Journal ● Table for Five ● Internet Cafe Blog ● blankPixels – The Geek Side ●
Read More